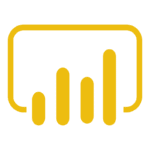 Microsoft Power BI Training
Analysing Data with Power BI
Course duration: 2 days
Overview
The main purpose of the two-day Analysing Data with Power BI course is to give students a good understanding of data analysis with Power BI. The course includes creating visualisations, the Power BI Service, and the Power BI Mobile App.
Objectives
After completing the Analysing Data with Power BI course, students will be able to:
Perform Power BI desktop data transformation.
Describe Power BI desktop modelling.
Create a Power BI desktop visualisation.
Implement the Power BI Service.
Describe how to connect to Excel data.
Describe how to collaborate with Power BI data.
Connect directly to data stores.
Describe the Power BI developer API.
Describe the Power BI Mobile App.
Prerequisites
Before attending this course, students must have:
A need to analyse data.
An understanding of relational databases.
An awareness of key business priorities such as revenue, profitability, and financial accounting is desirable.
Familiarity with Microsoft Office applications – particularly Excel.
An understanding of Excel PivotTables and VLOOKUPs.
Additional information
The Analysing Data with Power BI course helps prepare the student for Exam 70-778, which forms part of the MCSA: BI Reporting certification.
Cost
$1,500.00 per attendee.
More information
Please note the following:
Training workshops require a minimum of six attendees, but we also run workshops across multiple customers – so we can likely still help you out if you have less than six people needing training.
Course costs include morning tea, lunch and afternoon tea.
All prices exclude GST and are subject to change.
Training enquiries
If you have a question about the training workshops we offer, please speak with your Account Manager directly, call us on 0800 467 833, or submit your query below.