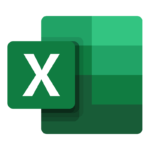 Microsoft Excel Training
Microsoft Excel: The Essentials
Course duration: 1 day
Overview
The Microsoft Excel: The Essentials course is intended for students who wish to gain a foundational understanding of Microsoft Excel. You will use Microsoft Excel to create spreadsheets and workbooks containing values and formulas that can be used to store, manipulate, and share data.
Objectives
After completing the Microsoft Excel: The Essentials course, students will be able to:
Open Microsoft Excel and identify the components of the Excel interface; identify spreadsheet areas and terminology; create and save a workbook; navigate worksheets; and enter and edit text and values.
Create simple mathematical formulas; move and copy formulas using AutoFill and use Paste Link; view formulas in a spreadsheet; work with relative and absolute references; and use the SUM function, AutoSum, and other common functions to perform calculations in a worksheet.
Modify a worksheet by inserting and deleting ranges, rows, and columns; find and replace text and data; check spelling and use the other research and proofing tools.
Format text, cells, rows, and columns; apply colour and borders; format numbers; apply conditional formats; use the Format Painter; and create and use templates.
Preview and print a worksheet; set page orientation and margins; create and format headers and footers; and print gridlines.
Manage worksheets by inserting, renaming, deleting, moving and copying sheets; navigate Excel views and set workbook properties.
Target audience
The course is ideal for anyone new to Microsoft Excel, or those with limited experience.
Prerequisites
To ensure your success on this course, you should be familiar with using personal computers and should have experience using a keyboard and mouse.
Cost
$410.00 per attendee.
More information
Please note the following:
Training workshops require a minimum of six attendees, but we also run workshops across multiple customers – so we can likely still help you out if you have less than six people needing training.
Course costs include morning tea, lunch and afternoon tea.
All prices exclude GST and are subject to change.
Training enquiries
If you have a question about the training workshops we offer, please speak with your Account Manager directly, call us on 0800 467 833, or submit your query below.