Lucidity Client Manager – Installation
Complete End User PC Health Monitoring Service
Lucidity Client Manager
Follow this quick guide to download and install the Lucidity Client Manager application on your PC.
NOTE: This application currently only runs on Windows 10 
Download Client Manager
How to Install the Lucidity Client Manager on your PC
1. Click here to go to the download page.
2. Click on the Install button to start the installation.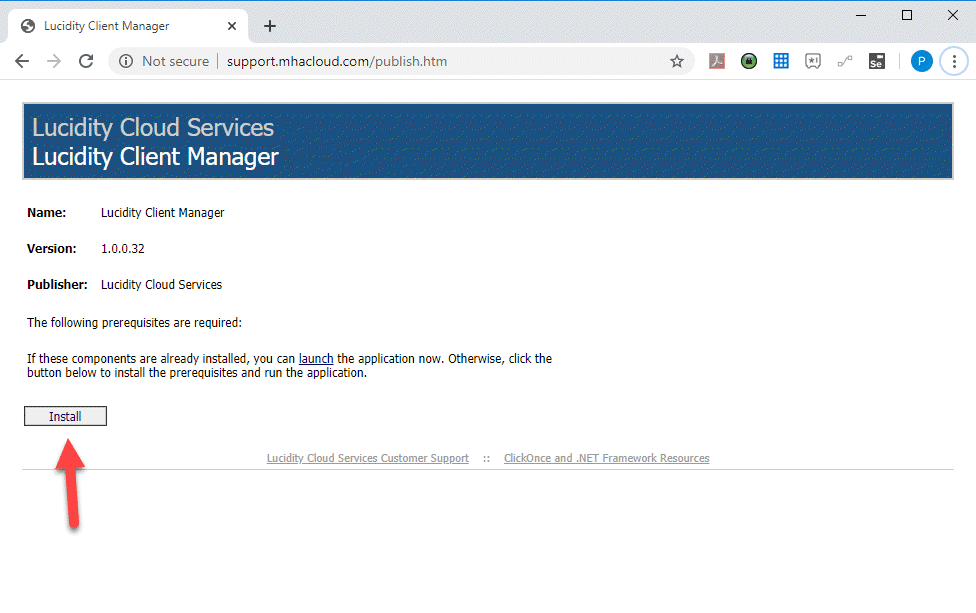 3. The link will download a Setup application.  Click on the application to start the process.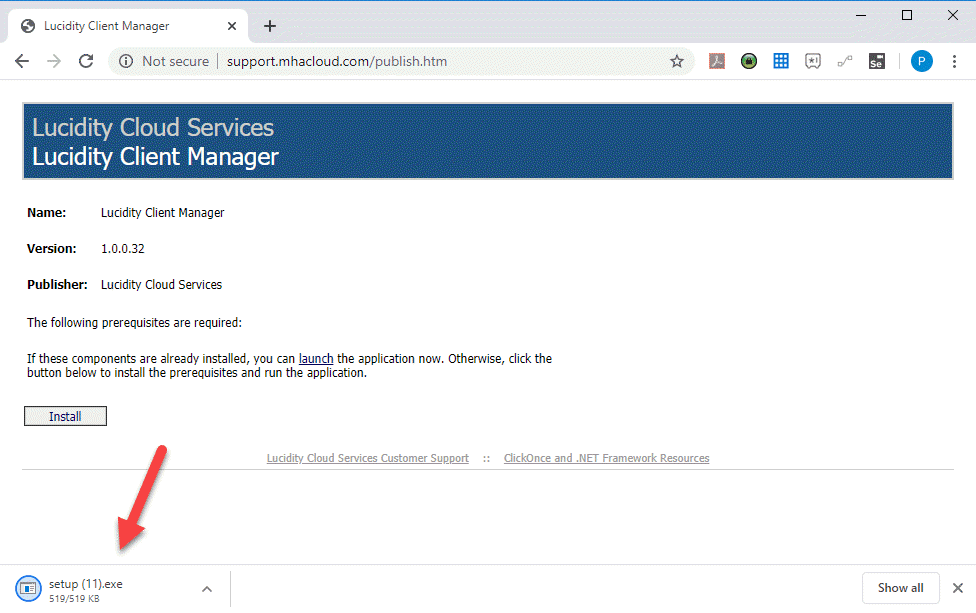 3. You may be prompted with a security notification.  Check the publisher is Lucidity (Managed Hosted Applications), and then click on the Install button to proceed.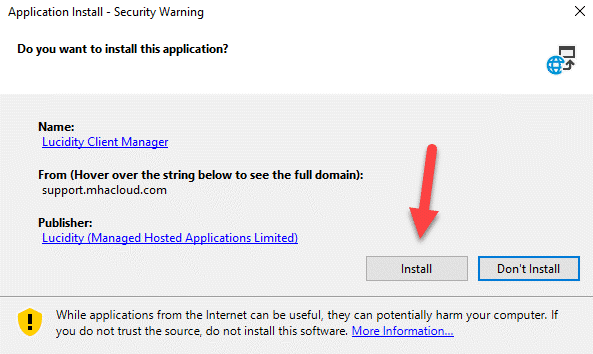 4. The application will download and automatically install.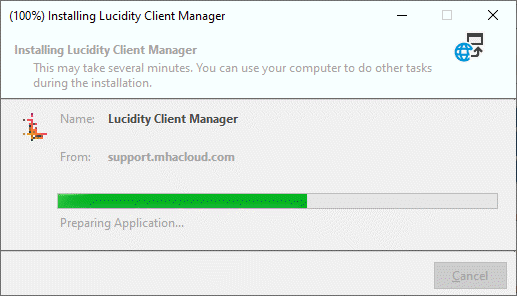 5. Once the application is finished installing, you will see a one time pop up window where you can type in your Lucidity Customer Code to help us identify your machine.
Enter the code, and then click the Save and Close button to dismiss the pop up window.  The main application will continue to run in the background.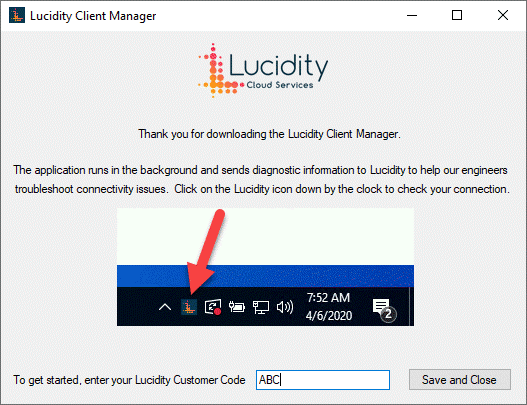 That's it!  The Client Manager is installed.  You can double click on the icon down by the clock at any time to bring up the overview window and see the state of your connection to the Internet, Lucidity and Office 365.
The Connectivity Overview shows you the path from your PC through your internet router/wi-fi to your Internet Service Provider, and then through to Lucidity services.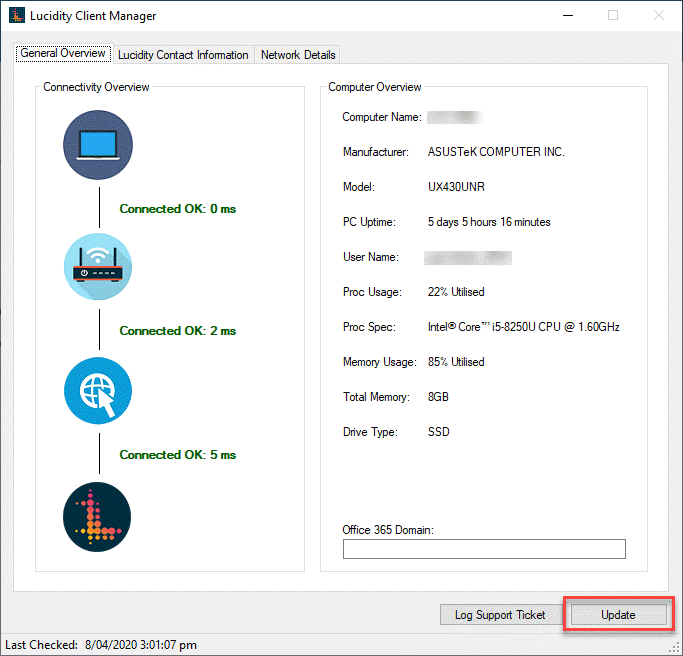 The Network Details tab provides more information about your connectivity and ISP and 'Trace Route' information through to Lucidity and Office 365.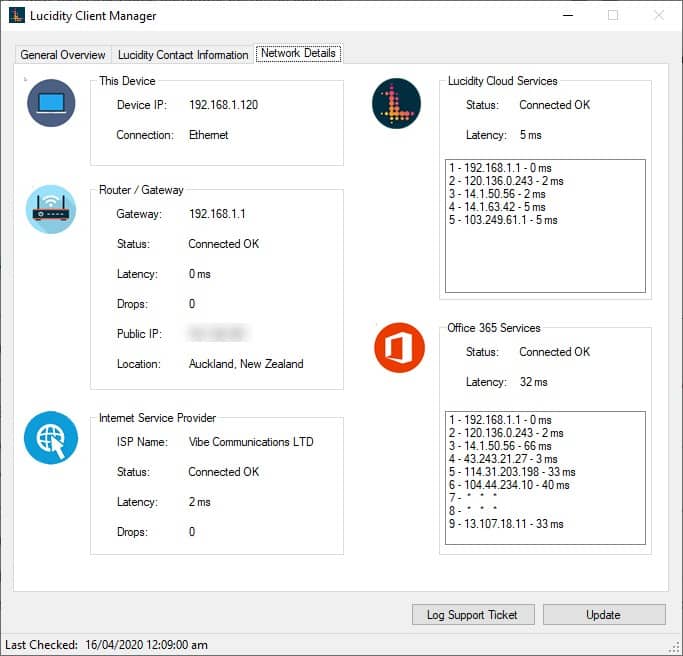 The application updates its information every 10 minutes, but you can click on the Update button to check instantly.  The update process takes 20-30 seconds to complete.
You can easily access Lucidity contact information at any time by clicking on the Lucidity Contact Information tab.  You can click on the numbers and links to open in a web browser or your phone app.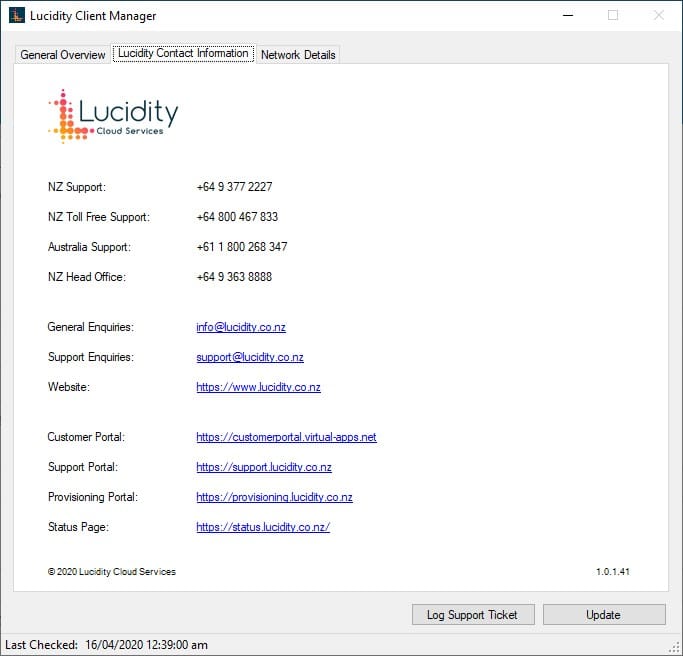 You can also click on the Log Support Ticket button to create a support email message addressed to our helpdesk that includes all the relevant system information for our technicians.