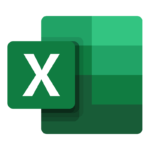 Microsoft Excel Training
Microsoft Excel: Managing Data and Large Workbooks
Course duration: 1 day
Overview
In the Microsoft Excel: Managing Data and Large Workbooks course, students will learn how to apply advanced formulas to test and retrieve data, manage and manipulate lists with Sorting and Subtotals and present data in graphical formats with Trendlines.
Objectives
After completing the Microsoft Excel: Managing Data and Large Workbooks course, students will be able to:
Freeze panes and split a worksheet; open and arrange a new window with the current worksheet content; hide and unhide data; set print titles and page breaks to optimise print output; insert different even and odd headers; manage multiple worksheets; link worksheets by using 3-D formulas; add a Watch window; create and manage links between workbooks.
Apply special and custom number formats; control the display of zero values; apply and modify themes; merge and split cells; change the orientation of data in cells; transpose data; use Paste Special operations and add a background colour and a watermark.
Create an outline and consolidate data; create custom views to save different sets of worksheet display and print settings; create subtotals in a list; use multiple subtotal functions; define and apply cell and range names; use names in formulas; and define and apply 3-D names.
Sort and filter data; create, format, and name a table, and add rows and columns; use structured references.
Save and publish a worksheet as a web page; insert and edit hyperlinks; publish a worksheet; and send a worksheet as an email attachment.
Use auditing features; add comments to cells and workbooks; protect a worksheet or part of a worksheet; protect the workbook structure; share, merge, and track changes in a workbook; find and remove hidden and personal data in a workbook; and mark a workbook as final.
Change Excel default application settings and customise the ribbon; create and modify templates.
Prerequisites
To ensure your success on this course, it is recommended that you have completed Microsoft Excel: The Essentials, or possess equivalent knowledge.
Cost
$410.00 per attendee.
More information
Please note the following:
Training workshops require a minimum of six attendees, but we also run workshops across multiple customers – so we can likely still help you out if you have less than six people needing training.
Course costs include morning tea, lunch and afternoon tea.
All prices exclude GST and are subject to change.
Training enquiries
If you have a question about the training workshops we offer, please speak with your Account Manager directly, call us on 0800 467 833, or submit your query below.