Lucidity is on the ground at Microsoft Inspire, soaking up high-level breakout sessions on Windows Virtual Desktop, Microsoft 365, Microsoft Teams, Power BI and much more.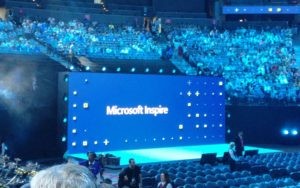 Technical drill-down sessions are just getting underway, starting with a deep dive into Windows Virtual Desktop, says Sales Manager Zach Dickson.
"The virtual desktop offers a potential pathway for customers currently using a traditional managed desktop," he says.
"It's a more modern way of working and a number of our customers are ready to embrace that. The technical deep dive will help us to ensure a seamless transition for customers."
Kiwis are making the biggest showing in the entire Asia/Pacific region, fielding more attendees than even Japan or Australia. The Lucidity team has been demonstrating its unique Lucidity 365 offering to other New Zealand MSPs, who are intrigued, Zach Dickson says.
"Other managed service providers want to see it – seeing is believing. They are intrigued with this new way of leveraging MS 365. We're already reselling Lucidity 365 through our partner Fuji Xerox and we see a lot of potential for partnerships with other New Zealand MSPs, so they can deliver those benefits to their own customers."