In the Lucidity office, we have everything from obsessive desk tidiers who keep a never-ending supply of hand sanitizer on their desk, to me.
I'm personally trying to improve my workspace. I had 3 monitors, laptops to repair, screwdrivers – the lot, all over my desk. Absolute chaos! I've now got rid of two of my monitors, managed to pass off my old desktop to the new starter, and brought in a laptop. I kept the best monitor I had and now I feel a bit saner when I look at my desk.
Having one monitor keeps me more focused. I can't have 30 chrome tabs open on one screen, a call on the second and my favourite cat videos running on a continuous loop on the other. I can now only focus on one task at a time, with my laptop having my backup info/guidance on the other.
I can see others struggling in the office, wading through their triple monitor setup, looking for that one Word document they need, amongst the 15 Word docs they have open. Having a tidy desk is important, as is having a tidy (computer) desktop. By keeping on top of your own personal chaos, it drives more efficient work behaviours, with less time spent searching for stuff.
This is equally true under the desk. For weeks I put up with kicking my headset out intermittently because under my desk it looked like this: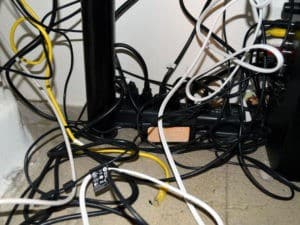 I decided when I walked in today to clean it up and I ended up unplugging the internet for 4 of my colleagues. Oops!! At least that's what I said to them when they started wondering where their Managed Desktop had gone! In reality, I was actually pleased to have found out what one of the multitudes of cables I've been kicking was actually used for.
On Monday it will be nice to be able to plug my laptop charger in without having to climb under the desk and trawl through the sea of cables to plug in my charger. I've now got a powerboard under my desk, the future is now! I can charge my phone without leaving it on the floor with the rat's nest of cables. I got rid of all the weird pliers and a hard drive from 2006 that had been sitting on my desk since (what feels like) then. I didn't even know my desk was the colour white with all the junk I had on it!
So please – my one plea to everyone is to keep your workspace clean! It definitely improves your lifestyle, I got a wireless keyboard & mouse combo, removing more wires from my desk and it's now super clean and it has definitely made me happier. I can now quickly look at my desk and think "Yeah – I cleaned it once and now it's going to stay clean, I've got so much room for activities!". Now let's see if it continues, or if I go back to the devilish triple monitor setup with a computer from the early 2000s.
While we can't help you with keeping your desk clean, we can help you with getting the right tools to do your job. Contact Lucidity to discuss upgrading your hardware – having the right tools for the job makes life a lot easier.