By Lucy Farrington
Wondering what applications are included in the Office 365 suite and what they do?
We're all familiar with the old school Microsoft tools available as Office 365 applications — Word, Excel, PowerPoint and Outlook — but some of us are not so familiar with the new ones. To help explain what apps are on offer, we've constructed an infographic, otherwise known as our Office 365 pizza! We also give you a quick rundown of each app so you can get a feel for what they all do – the Lucidity team can also provide advice.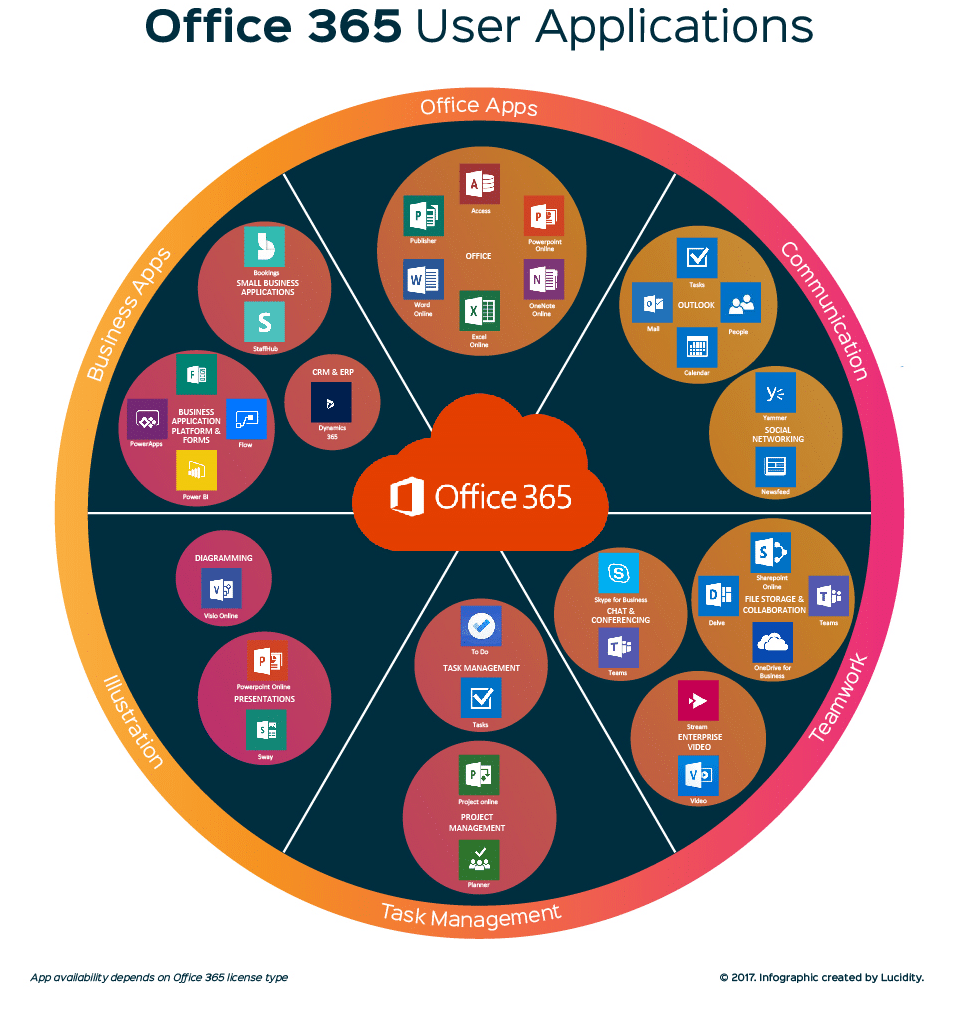 Office Apps
Word: For creating documents and sets the standard for word processing.
Excel: The workhorse for your basic data analysis.
PowerPoint: Allows you to create, display, and present information in slide formats.
Publisher: Provides tools to publish professional-looking newsletters, brochures, and booklets.
Access: An easy to use database management system.
OneNote: An app that enables user to share notes to be with an individual or a group of people and collaborate within the same notebook.
Communication
Tasks: A task manager, allowing you to create to-dos and lists, and add reminders and due dates.
Outlook: The solution for managing email that also includes an appointment calendar.
People: Your address book and social app all in one – the People, Mail, and Calendar apps as work together as a single app.
Mail: The app for managing your mailbox and sending and receiving emails.
Calendar: Manages your schedule with meetings and appointments, and shows shared calendars of colleagues.
Yammer: An Enterprise Social Network that supports company-wide conversations, collaboration and networking.
Newsfeed: An app for Sharepoint users, like a blog, which lets you participate in conversations on your company feed.
Teamwork
Teams: A chat-based workspace that integrates people, content, and tools into a single platform.
Skype for Business: A video conferencing tool for a mobile enterprise workforce, with instant messaging, audio and video calling capabilities.
OneDrive: A file-storage library that provides an overview of your files as well as files shared by other users.
SharePoint: An Enterprise Content Management platform that allows team members to manage content with centralised workflows.
Delve: A data visualisation and discovery tool that surfaces personalised content, by combining aspects of social networking, machine learning and powerful search functionality.
Stream: A corporate video sharing service that will replace 'Video'.
Video: An app that allows the sharing of company videos and categorises videos with similar content into channels.
Task Management
To Do: Lets you create simple to-do lists, set reminders, and keep track of projects.
Tasks: A task manager, allowing you to create to-dos and lists, and add reminders and due dates.
Project online: An advanced project management system with resource planning, timed entries and project workspaces.
Planner: A task manager allowing you to create a board with different columns (To-do, In Progress and Done) and move tasks to different columns.
Illustration
Visio: A tool for creating diagrams, flowcharts, circuits, or other kinds of entity-relationship models.
Powerpoint: Allows you to create, display, and present information in slide formats.
Sway: A digital storytelling app that makes it easy to create visually striking presentations, newsletters, and personal stories.
Business Apps
Power BI: Provides enterprises with a set of tools for collecting, sorting, and presenting business intelligence data.
PowerApps: A non-code based solution allowing users to easily build basic mobile and web-based business apps.
Flow: A service that allows you to create automated workflows between your favourite applications and services to synchronise files, get notifications, collect data, and more.
Dynamics 365: Combines ERP and CRM to work seamlessly together across your business processes, with the goals of better engaging customers and empowering employees.
Bookings: A scheduling and booking app that makes it easy for small businesses to schedule and manage appointments with their customers.
StaffHub: An app designed to help staff workers manage their workday—with schedule management, information sharing and the ability to connect to other work-related apps.
Forms: An app that allows you to easily and quickly create custom surveys, quizzes, questionnaires.
In summary, Office 365 offers a wealth of applications that may or may not be available to your organisation depending on which Office 365 plan you subscribe to. As a Microsoft Gold partner, Lucidity can provide advice on the various Office 365 plans, as well as manage deployment and help your staff leverage each application as your business needs arise.

Lucy