By Zach Dickson
When I made the big jump from the Telco industry into Cloud Services, one of the things I was most looking forward to was getting to learn about, and play with, new technology.
One of the technologies I was most excited about was Skype for Business (S4B); I have used the consumer version of Skype for years (it's an essential tool for any Scotsman living abroad) so I was pretty familiar with S4B's video calling features.
Having always worked in businesses that ran some version of a PBX, whether on-premises or in the cloud, getting a new tool that offered a bunch of new functionality was pretty cool. Here is a quick rundown of some of the things I have found to make a big difference to the way I work:
Instant Messaging
IMs are a core component of S4B. The idea is to remove the dependency on the countless emails that are sent within businesses daily. Instant messaging is much more responsive, and you are less likely to lose messages amongst the noise of your email inbox. You can set up IMs with multiple people or specific teams, so if you have a wide-ranging group of people working on a particular project, this is a great way to have regular contact with your team members, tracking the group conversation in one single location.
Additionally, this is not only a tool that can be used for internal communications; if your clients, suppliers or anyone else you regularly deal with also use S4B, you can federate domains with them which then allows you to also IM people outside your organisation.
Presence
But before bombarding your suppliers with IM requests, it's always worth checking their presence on S4B. Presence provides visibility of a particular user's status:
You can change your status on an ad-hoc basis, or if your S4B deployment is integrated with your Office 365 or Outlook, it can pull this information directly from your Outlook Calendar. Got a meeting at 11? Your status will show as "in a meeting" for the duration. Don't want to receive calls because you are working on something important? Set your status to "Do Not Disturb" and no calls will come through allowing you to work without interruption. Bliss!
Screen Share & Remote Control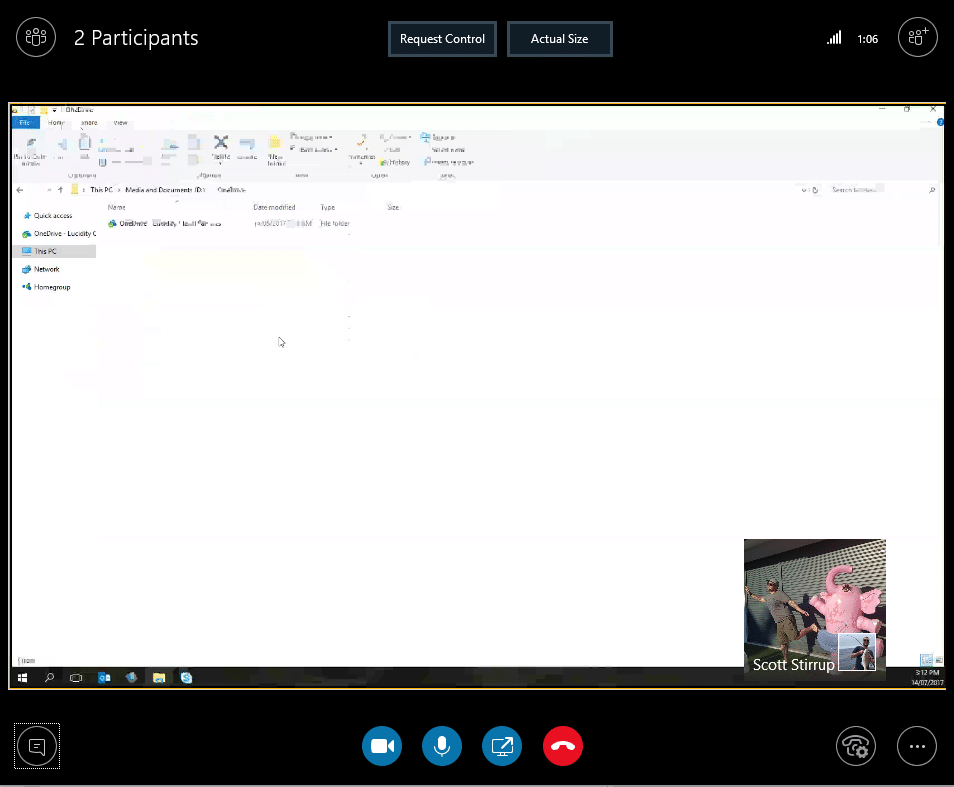 Many businesses currently utilise a range of tools to gain screen sharing capabilities; some common ones are Team Viewer, Log Me In and Splash Top, but there are loads more out there. If you are using one of these, chances are you will have to pay enterprise licensing to get all the goodies for your users. The question then becomes, why pay for that when you may already have the capability through S4B via your Office 365 licensing!
It is extremely handy, not only can you see the screen of the person that is sharing, you can also actually take control of their machine. This is invaluable for internal support desks or IT pros that find themselves regularly having to access other people's machines. 
Get Cloud PBX Features
One thing I regularly hear from prospective customers is that they need their Skype for Business to be set up just like their existing PBX phone system. Microsoft has come to the party and has deployed a wide range of Cloud PBX features that you know and love. IVRs, call hold, call transfer, caller ID and music on hold are just a few of the traditional features that are included.

You then also get advanced features that you cannot get on most Cloud PBXs such as Device Switching; this feature allows you to move a call from your PC to your mobile with just a few clicks. I also find simultaneous ring to be extremely handy; this feature rings both your mobile and DDI at the same time. As I'm not always at my desk, it is great knowing that I am not missing any important calls as it pops up on my mobile at the same time as it is ringing my DDI.
S4B offers a full conferencing experience (both over PSTN or Skype to Skype) as well, and with many handsets and headsets now optimised for Skype for Business, you can get the flash hardware to go along with your flash new phone solution! Full details about Cloud PBX features are available on Microsoft's website.
Skype for Business Client on Mobile
Not only is Skype for Business a great tool to use at work, it's also a great tool to use when you're out and about! The S4B mobile client allows you to make and receive calls from your DDI, making it seem like you are at the office, even if you are lying on a beach, travelling abroad or working remotely. You just need an internet connection and you can send IMs, make & receive calls (phone & video) and change your presence status. This is extremely useful for many businesses, especially if you have reps or employees that are regularly working from out of the office. 
Get PSTN (POTs) Calling
PSTN stands for public switched telephone network, or as its sometimes referred to here in New Zealand, POTs (Plain Old Telephone Service).  Microsoft have not deployed PSTN calling for S4B in New Zealand; it is only currently available in a handful of countries including the USA, UK, France, Spain and Puerto Rico.
However, fear not, all is not lost! A small number of Microsoft partners, including Lucidity, have worked with Microsoft and NZ Telcos to bring PSTN calling functionality to New Zealand. This covers the main gap that S4B previously had as a Cloud PBX replacement service in New Zealand. You can port over your existing DDIs and we can replicate your existing call flows and then you can reap the rewards!
If you are interested in finding out more about how Skype for Business can help your business, check out Lucidity's product page here, or drop Zach an email! 
Lucy Farrington