On the 5th of February, Lucidity rolled out the next incremental update to the Lucidity 365 product. This was a major update with a number of new features being rolled out.
New features include:
Shared Spaces
It is now possible for admins to create Shared Spaces in Lucidity 365. Shared Spaces act as separate dashboards in your workspace creating an organised, manageable environment. If you are involved with many departments or teams in your company or are a Workspace admin, you can create Shared Spaces to break up applications and shared tile groups based on their purpose. Shared Spaces appear as tabs across the header of your workspace allowing you to easily switch between your personal space and other Shared Spaces.
When you create a Shared Space, your current dashboard will become your Personal Space. You can create Shared Spaces for the departments in your company such as Sales, Finance or Marketing. Or you could have an application-based space and space for news, statistics and information.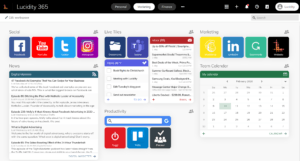 For more information please reference the Lucidity 365 – Shared Spaces Guide.
Improved Mobile Experience
One of the key benefits of Lucidity 365 is that it allows you to work from anywhere on multiple devices. Whether you are working on your laptop in the office, or working remotely on your phone or laptop, you can quickly and conveniently access your workspace.  The recent update has improved adaptability of Workspace 365 on mobile devices. When you are using Lucidity 365 on a mobile phone or tablet, the tiles and tile groups will automatically adapt to your screen size. Live tiles will resize to fit the screen so you can clearly view unread emails and appointments.
The Lucidity 365 Documents view has been adjusted so you can easily view your documents from your mobile phone.
How-To Live Tile
A new How-To live tile has been created using A.I. (adaptive intelligence) designed to assist and support end users and admins with using Lucidity 365.  A range of how-to videos are available on topics such as adding new tiles, creating new groups, using the Documents Apps and live tiles.
The videos are made available to a user based on their permissions and what applications they can access in Lucidity 365.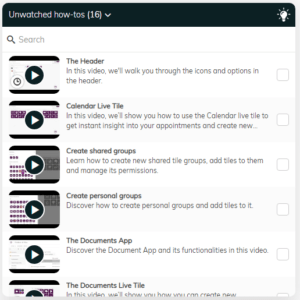 Announcements Live Tile
The recent update has released the Announcements live tile designed to improve the interaction and internal communications with employees. Announcements can now be opened and viewed from the live tile.
Admins can click on the plus symbol at the bottom of the tile to publish a new announcement. For important announcements that require instant attention, there is an option to push announcements out directly to users in the form of a pop up.
A new feature to the Announcement live tile allows users to "like" an announcement. This can help increase employee interaction and allows staff to show their acknowledgement for the post. You can now also see the number of views each announcement has had, giving admins insight to the effectiveness of announcements as a form of internal communication.
For more information please reference the Lucidity 365 – Announcement Guide.
Change Default Email Settings
It is now possible for admins to set the default text font and size for the Email app in Lucidity 365. Users are still able to change the font after the default has been set. Admins are also able to set the default visibility for images in incoming emails.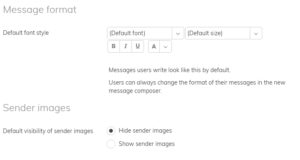 For more information about the new Lucidity 365 features, please contact support@lucidity.co.nz or contact your Account Manager directly.