Businesses that understand the importance of data and base business decisions on that data have a significant advantage over their competitors. One of the primary challenges to getting to this state is how you get this data and make it accessible to decision makers.
Microsoft Power BI is a data visualizer. You provide it with data connections, and it will offer you visualizations. Power BI supports a large range of data sources. You can click Get data and it shows you all the available data connections. It allows you to connect to different flat file databases, SQL databases, and Azure Cloud or even web platforms such as Facebook or Google Analytics.

The most important aspect of Power Bi is the data. Thus, taking care to procure clean data is the most beneficial step to making clear and concise reports.
What makes clean data?
The data needs to be valid and meaningful for it to be leveraged to its maximum potential. There is no point in making fancy dashboards if the data is incorrect or meaningless. Investing time at the start to go through the data frames and validate the accuracy of the data, will pay dividends in the long run.
The team at Power Bi know the importance of clean data. They provide the Power Query Editor to help with the heavy lifting when validating the data. It allows for a seamless connection to multiple data sources. It cleans the data in a query by query manner, allowing for minute control on how that data will look. It then outputs a clean model for Power Bi to use.
The most powerful feature of the Power Query Editor is that it will run the connection and cleaning queries every time you refresh the data. Thus, proper cleaning is only required once, highlighting the importance of that initial data validation.
Visualising your data
The next aspect of Power BI and the most appealing is the visual representations of your data in Power BI dashboards.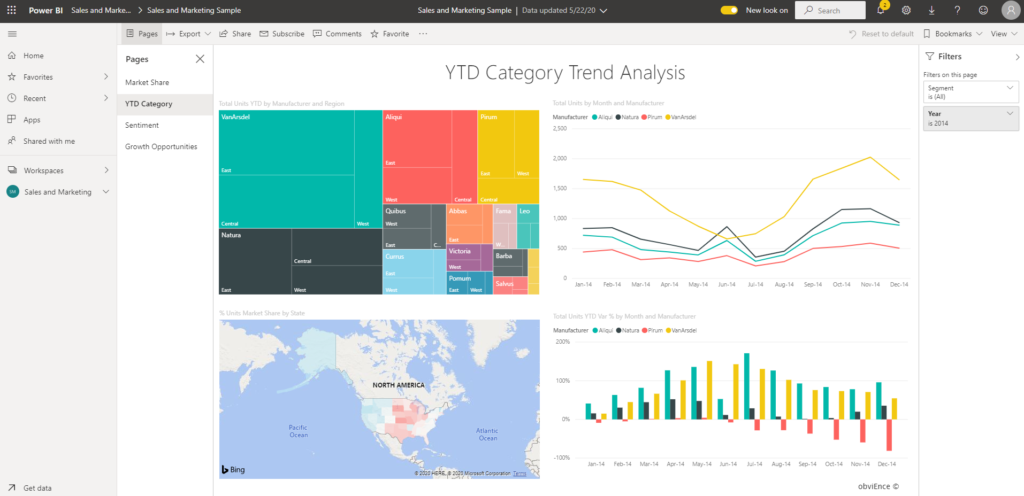 Once all the data is clean, and in order, it becomes as simple as drag and drop! Well maybe not quite that simple, but close enough….
Power BI allows exploration of data with ease. You can change between data visualisations by simply clicking on one of the multiple dashboards on offer.  Not only can you switch between visualisations, but you can also bring other data sets into play, so the dashboard displays different information facilitating cross referencing or drilling down into the data for additional context.
This ability to drill down, cross reference and have visual representation is a powerful way to drive efficient data led decision making. You have the data at your fingertips and get a high-level understanding at a glance.
Maximising your use of Power BI
Power BI can also be fully integrated into Lucidity 365, our Modern Workplace solution. This not only offers you dashboards at a glance to drive decision making, but you can also have it integrated onto Shared Spaces so teams within your business can track performance. Having that data and information in the same location as your email, calendars and applications ensures your team are constantly aware of the business trends you want them to be aware of.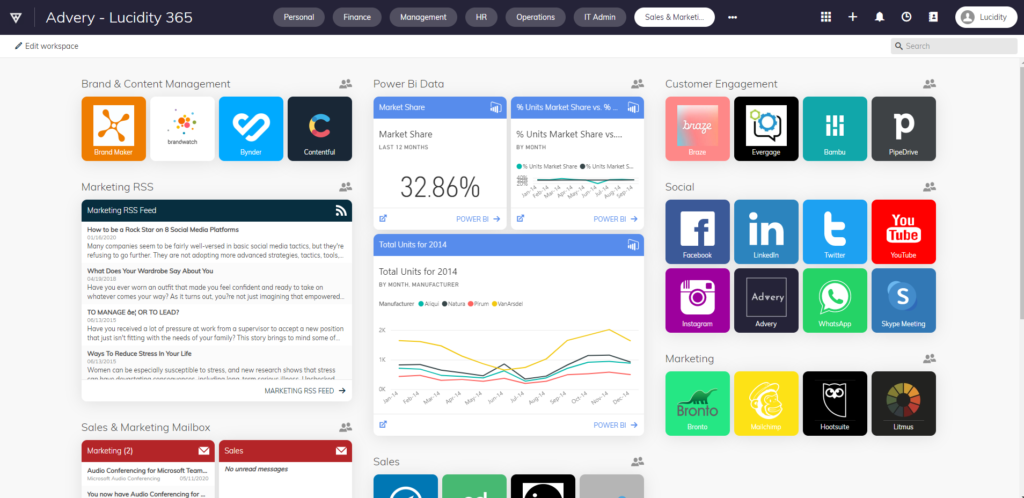 If you would like to discuss implementing Power BI in your business, or if you are interested in discussion Modern Workplace solutions, reach out to Lucidity today and one of Modern Workplace consultants will get in touch.