As Bob Dylan once famously said "The times they are a changing (in the way we consume IT)" or something along those lines anyway…
The 'Modern Workplace' is here, and remote/flexible working has become even more of a priority with recent global events.
The IT Model of the Modern Workplace
In 2020, the way people use their computers at work is less centralised around a company's IT system than it once was. Platforms like Managed Desktop have their place for businesses running Windows Client/Server applications and systems, but a lot of smaller businesses use mostly Cloud based applications and Office/Microsoft 365.
The model has simplified, and what was once all running on customer servers a few years ago is all now running from the Cloud. The end user device, whether it be Windows 10, Mac, iOS or Android, consume these Cloud services through a web browser or local app. This is quite a change in architecture for a business IT system. It simplifies the platform and optimises speed and performance, but it becomes harder to centrally manage and control things like security and virus protection.
Ensuring machines that are 'out in the wild' (instead of within an IT Managers immediate control) comply with company policy and are up to date and healthy becomes a whole lot more important than it used to be. In days gone past users' machines were just 'clients' that then connected in to the managed IT environment. In the modern world, users' machines now run most of their business workflows, so making sure the individual machines are not a threat to your company's overall data integrity needs a completely fresh approach. For example, Cloud tools like OneDrive can sync an entire company file system structures down on to staff machines. But what happens if that machine gets lost or stolen and you don't have the requisite security measures in place?
The power of Intune
Lucidity have been working with the Microsoft Intune product for several years. Initially, we didn't have a lot of luck with the product. It didn't have very good remote control in to our clients machines for our support team to help customers, and it didn't seem to be very good at keeping everything in sync. In our mind, it wasn't ready. Lucidity went with the well-known device management product called Kaseya. Kaseya gave us far better control over managing devices and making sure they were doing updates and offered us other benefits such as central reporting.

In 2020, things have changed. Microsoft have added Intune into their most popular Office 365 plan – Microsoft 365 Business Premium (previously Microsoft 365 Business).  This bundles in the licensing for Intune along with the rest of the per user Microsoft licensing.
And since we last seriously looked at it, Intune got good! Now, it's a pretty serious framework to support the Modern Workplace for doing just about anything with end user devices; from securing them, to auditing them, to pushing out applications, to controlling who gets what etc.
Over the past 12 months, we have put hundred of hours into research and design to understand the product, and fine tune our 'Managed Intune' solution to deliver the complete Modern Workplace Device solution.
We are currently automating the numerous components and steps of the setup so we can 'rapidly' deploy a new customer's Intune setup in minutes through our Customer Control Panel and ensure all our Intune deployments are uniform in the way they are configured.
Lucidity's Managed Intune offering is secure and ready for the Modern Workplace:
Secure
Enables Multi-Factor Authentication
Enables Microsoft Advanced Threat Protection for enhanced email security
Enable Microsoft 365 and device auditing
Enable BitLocker device encryption on Windows devices
Ready for the Modern Workplace
Provides fast and simple ways to provision new devices with all your apps
Manages security software and Windows updates and reports to a central location using Power BI
The Lucidity Client Manager app monitors your connectivity to Lucidity & Microsoft services
Provides self-service control over application access through our Lucidity Control Panel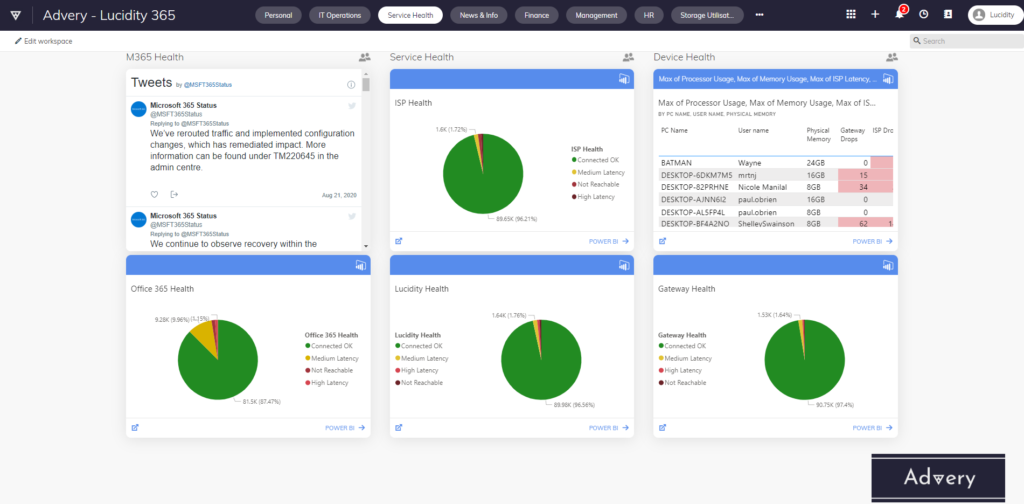 By deploying the Lucidity Managed Intune service, Lucidity will deploy a platform that automatically configures your Windows 10 devices based on Lucidity developed policies – these policies have been custom built for NZ business and offer the following functions as standard:
Maintain Windows Updates policies and report on any machines that aren't complying
Maintain and install Endpoint Protection like SentinelOne or Microsoft Defender
Enable BitLocker device encryption
Create and configure Admin account and Support access
Install Microsoft Office Pro Plus
Configure Outlook to connect to your email
Configure OneDrive to connect to your documents
Install Microsoft Edge Browser (Chrome replacement)
Setup your connections to printers
Install the Lucidity Client monitoring solution & Support tools
We see our Managed Intune services as a cornerstone component of our Modern Workplace solution. We've delivered a number of Modern Workplace rollouts now in New Zealand that follow the modern design:
The Modern Workplace Solution
Windows 10 and Mac Devices
Microsoft Intune for Device Management
Sentinel One Device Security Protection
Microsoft 365 Business Premium
Office 365 Backup
Lucidity Single Sign On Apps
This solution looks great, improves your organisational security posture and best of all, offers a streamlined experience for your users by offering access to all their business tools in a single browser tab.
If you would like to discuss how you can introduce a Modern Workplace solution into your business, please contact Lucidity today