My name is Paul O'Brien, and I am the founder of Lucidity. I started this business way back in 2002 as an IT engineer with an idea to use the Internet to deliver applications to users and eradicate onsite servers.
We started with delivering Virtual Desktop solutions right back with Citrix v1.0 – we've been there from the start of Remote Desktop technology.  We could see that what would become 'Cloud Computing' was the future of technology platforms.  Servers on site were a business risk and the cloud concept gave big computer system flexibility to smaller businesses who may not have been able to afford their own dedicated IT platform.  The internet opened up access from anywhere.  It was exciting times, we were working on cutting edge technology yet some of my peers told me it would never take off.  Every day was a challenge for me to prove them wrong. 🙂
Now, every one of us use it, from Gmail, the banking app on our phones, our music/TV right through to our 'Happy Birthday' wishes…Cloud is just how it is now.  A generation have grown up never knowing it wasn't there.
We've updated and upgraded our systems and technology 5-6 times over during our time, added products like telephony and Office 365 to our platform – some exciting, some not exciting but necessary; but we've offered the same Remote Desktop service since we started with our first customer back in 2002.  In fact, we still have that first customer.
Some of the technologies along the way have really interested me, but they are generally evolution of the same concepts – communications, document management, databases.  Then last year, we came across a new concept in IT delivery – something that would flip the Remote Desktop IT solution on its head.
Enter – Lucidity 365. 
This is a product that changes how we deliver all the customers IT 'bits and pieces'.  The solution sits on top of your Office 365 Subscription and provides a powerful and customisable dashboard/workspace where you can easily get to all your applications – whether they are Office 365, Azure, third party systems like Xero or MailChimp, Remote Desktop applications like MYOB EXO – all using one secure login.
The whole thing is visual – in a web browser and works across all devices.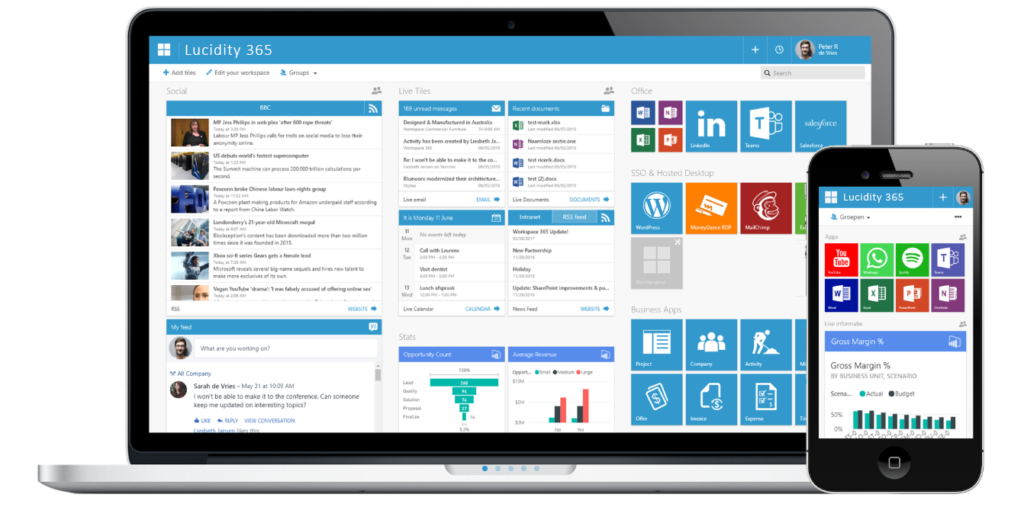 You can connect in Power BI Dashboards and Widgets and build your own workspace – it's not dissimilar to adding apps on your mobile phone and arranging and moving things round as you see fit.
From the moment I saw the concepts, I knew this is the solution for modern worker industries like Real Estate.  We can use this to tie all the different sites and web applications into one secure area.  Agents can have one login and get to all systems with no confusion and no knowledge of company wide passwords.  This is a real estate agency administrators dream!
We can template solutions for vertical industries like Real Estate, Law, Travel, Distribution.
Rather than all the users in a business having to log into a remote desktop to access their applications, this dashboard brings the power back to the local computer as well as accessing remote desktop apps in browser tabs.
For customers who work mainly in modern applications like Office 365 and Web based applications but may still have to run an ERP or Finance application like SAP Business One or MYOB EXO for some users – this is the solution.  The applications can run directly from Microsoft Azure servers in your own private tenant where you have control but are published through our Lucidity 365 gateway infrastructure.
We can quickly deploy a template on top of your Office 365 subscription in minutes.
This is a demo Real Estate template we've built.  We have a section for communications showing unread emails, top stories from the New Zealand Herald site, To-Do list as well as links to open the company LinkedIn and Facebook accounts using single sign on – a technology that automatically passes through centrally stored passwords so you don't need to hand them out to your employees.  Security can be tightly managed by company administrators, and password issues become a thing of the past; that in itself is a reason to look at this technology!
We've got live tiles showing our Calendar and our recently worked on documents.  We can launch Office 365 apps directly as well as line of business Real Estate applications like Property Suite and TradeMe, all without having to type in passwords.  Power BI allows us to tailor reports and dashboards and display them live in your digital workspace.  The whole dashboard is essentially alive – it's a completely different experience to a static Windows desktop.
And it works across any device.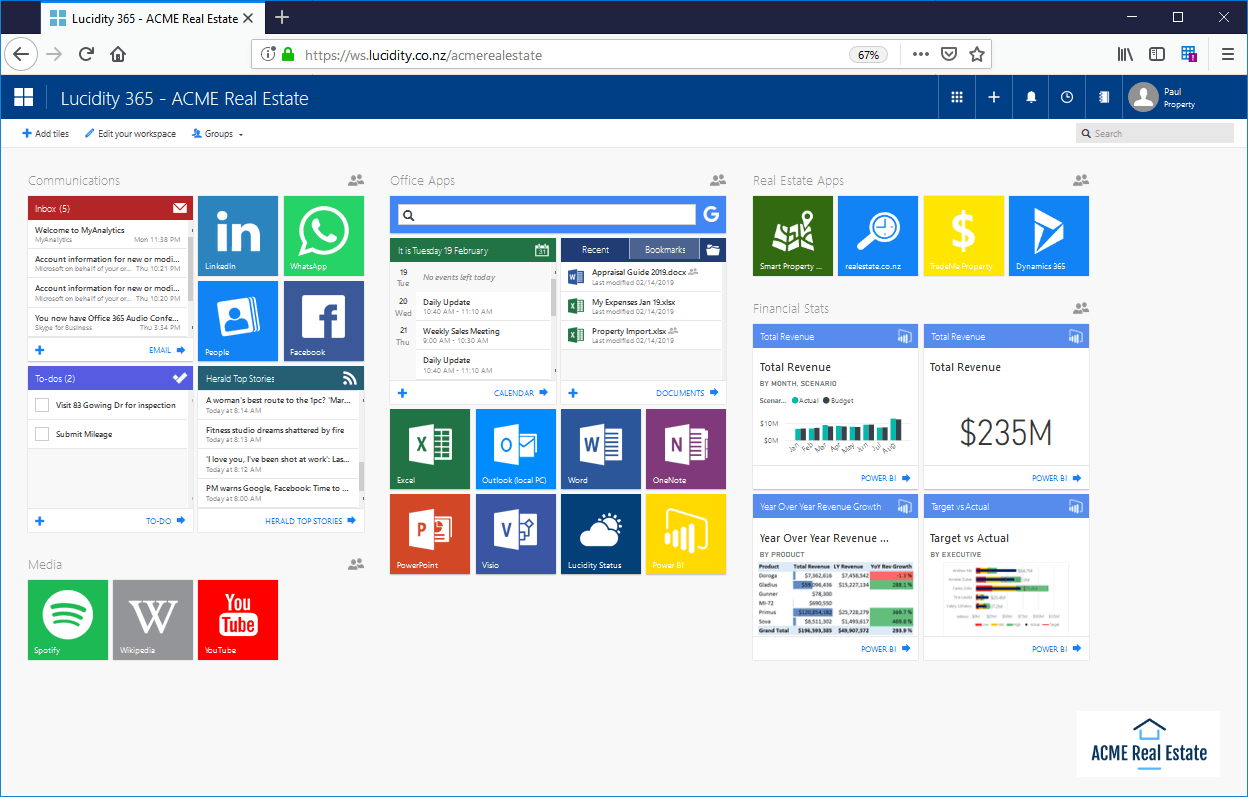 This is a demo Car Parts company template – we picked this theme to demonstrate MYOB EXO Business (a Windows application) running as a remote desktop application within the Lucidity 365 workspace. One click on the icon, and MYOB EXO is running in a browser tab beside the dashboard.  Power BI data from EXO and Xero can be plumbed right back to the dashboard allowing us to publish dashboards for executives with key business indicators real time on the screen.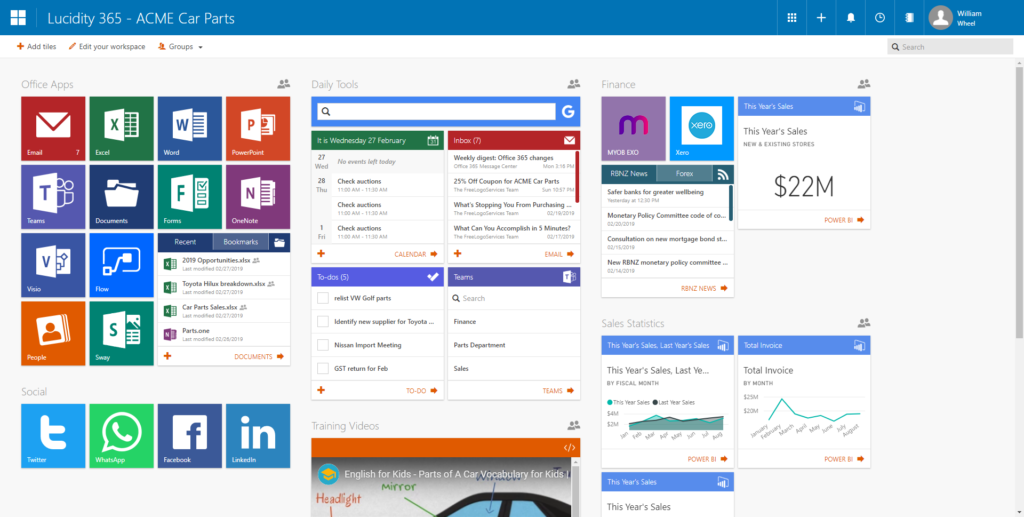 I've been out to a few existing customers where I immediately thought this solution would fit, and I have been blown away at the positive feedback to this new approach to working.  It sounds a bit cheesy, but I feel that same excitement I felt delivering cutting edge Remote Desktop solution back in 2002 at 26 years old, starting my own business. I see this technology simply as, the future – life beyond the desktop.
Our business typically has a long sales cycle.  Its a big commitment to change IT provider.  This solution is busting down doors for us with potential customers fascinated by this new way of working.  People immediately see the value of it just by looking at it.  After a 2-3 minute presentation – people want a demo.  It feels familiar, manageable – like organising apps and data on your mobile phone.  It's fantastic!
I'm delighted with our investment and development of a full IT solution based on this new tech, and excited to see our team prepare for this new wave of modern workplace IT strategy.  If you want to see it in action – contact us to organise a demo and more information.
Thanks for reading.[/vc_column_text][/vc_column][/vc_row]