Here at Lucidity we made a conscious decision several months ago to start to harness the power of Microsoft Teams.
We have done a couple of blogs on Teams already, firstly introducing it and then a follow up on some of the useful features that are available in Teams. We are also edging ever closer to the release of full voice connectivity for Teams – as such I figured it would be good to talk about how we are using the application internally, and a few of the lessons that we have learned during the past 12 months.
Implement Teams guidelines before deployment
One of the main things that we have found with Microsoft Teams is that it can very quickly get out of control. We have had a few false starts over the past 12 months, where departments at Lucidity would set up their own teams in Teams, throw a few files in there, send a couple of gifs and then forget all about it.
I am as guilty of this as anyone else, I think at last count we had at least 3 Sales & Marketing Teams which were set up at various times and by various people. This is less than ideal as each time a Team is created, a corresponding SharePoint site is also created. This can lead to both Teams and SharePoint quickly becoming very messy, which in turn will mean that no-one uses them, which is clearly not the outcome we are looking for!
For the past 4-5 months, we have taken more care and implemented some Teams guidelines that have proved to be invaluable. Lucidity's Teams guidelines are included below: 
Do not create any Teams or Channels without Management approval.
Do not store documents in teams unless agreed with your manager.
The Luciditation Team is for everyone, there are channels in there at present for:

General – use this for posting all staff messages, in preference to emailing  
Ask Anyone – if you have a question about something in the business – ask it here
Lucidity Heroes – nominate anyone for going above and beyond
Social Events – post ideas for social events here and communicate about events.
Teams at Lucidity – discuss the use of Teams, ideas or changes and any info on features in use. 
There is a Teams mobile app – suggest you install it
There is a Teams desktop app – suggest you install it too!!
By limiting the amount of Teams that are created, as well as the volume of documents stored in a Team, we have managed to keep Teams from becoming cluttered or hard to navigate. This, in turn, has driven the adoption of Teams within the business.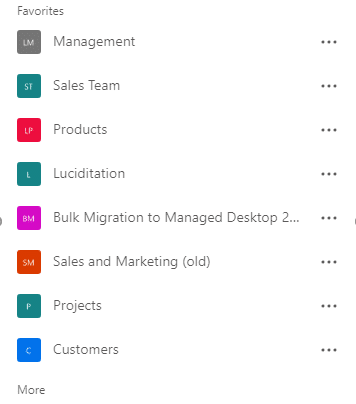 How we use our Teams
Our Luciditation Team is the home of everything Lucidity, in here we post updates from vendors, discuss internal projects, send out updates on projects etc. Everyone has access to this team and it has become the hub of our internal communication. Colin even does a weekly blog in here, summing up the successes of the previous week.
Each Lucidity team then also has its own Team. In here we discuss things that are relevant to that particular team, and typically these teams only have the members from that team in it e.g. the Sales Team or the Infrastructure Team.
We also set up new Teams for various customer projects – these are very tightly controlled, with only participating members of the project involved. These teams are then closed once a project has been completed.
The other main team that we have is the Customers Team. This is where we store all of the documentation on our customers, like scopes of work, support ticket summaries etc. It is great having one, easy to search, location for files. Teams is truly bringing a range of disparate systems together into one location.
From a personal perspective, I typically "Favourite" the Teams I use frequently. This allows me to block out some of the noise from other teams, focussing on the things that are important to me and my work day. Teams that I use less frequently are moved into the "More" drop-down.
Another great way to follow things that are important to you is in the Activity feed. This notifies you anytime there is an update added to one of the teams you follow – this means you don't miss anything and makes it nice and easy to find the things that are important to you.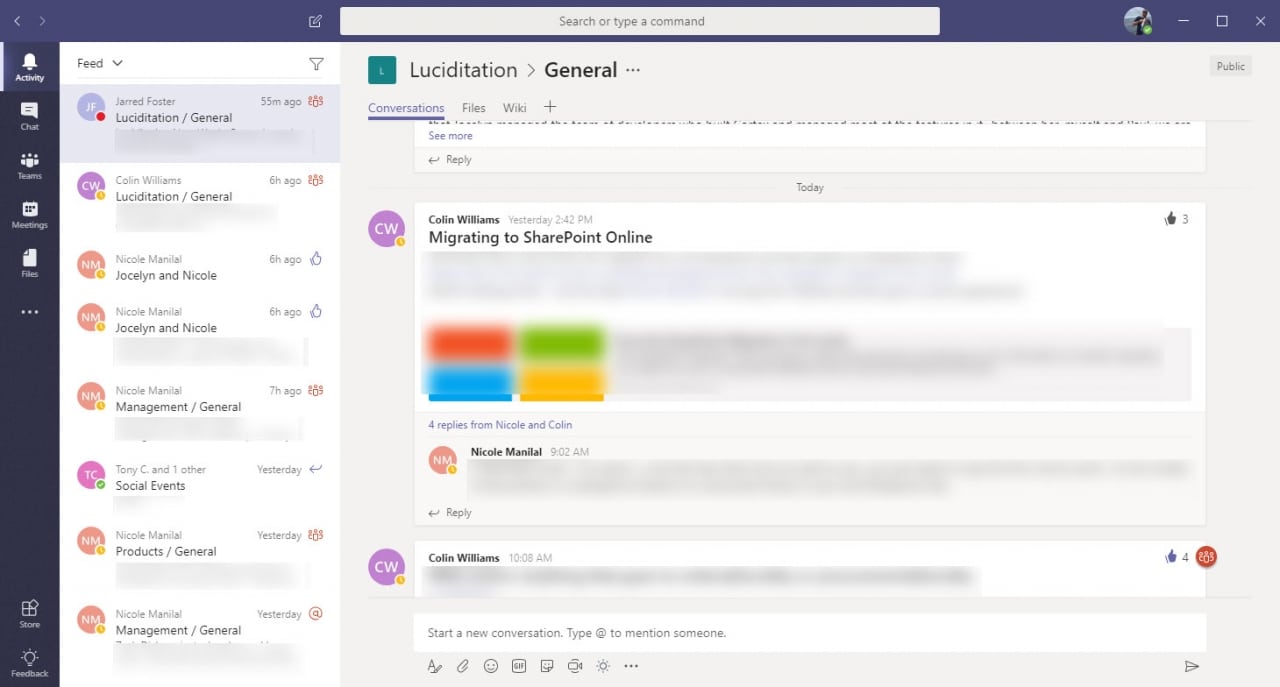 Remove the need for multiple systems
As I mentioned above, Teams is actually allowing us to do away with some of the systems we have used in the past. We are now retiring our MyFiles service – this was a file store system, much the same as Dropbox but NZ based – all our files now live in Microsoft Teams.
We are also slowly phasing out using Skype for Business for instant messaging. Again, with Teams we can do it all in one place and can work on files together as instant messages are flying back and forth.
Once Teams voice calling functionality is released, we will fully move away from Skype for Business and utilise Teams for all internal communications. As someone who really enjoys using Skype for Business, it will be sad to see it go, but the future waits for no app.
The Power BI integration (which will get a full blog post in itself) is fantastic. We are now aggregating various sets of data and publishing graphs in Power BI. These graphs are then integrated into the relevant Team so teams are now able to see that stats that are important to them at the touch of a button. This can replace whatever reporting tools you currently use to present data to your staff, or provide a platform for you to publish the data. 
We also run many of our internal meetings in Teams, thus replacing Outlook as the go-to meeting organiser. As Colin mentioned in the previous Teams blog, call quality is excellent, so it is great if we have people dialling in from a range of locations.
The Store
Finally, there are some cool integration opportunities available in the store. You can add apps and services into your Teams channels, allowing you to do even more cool stuff.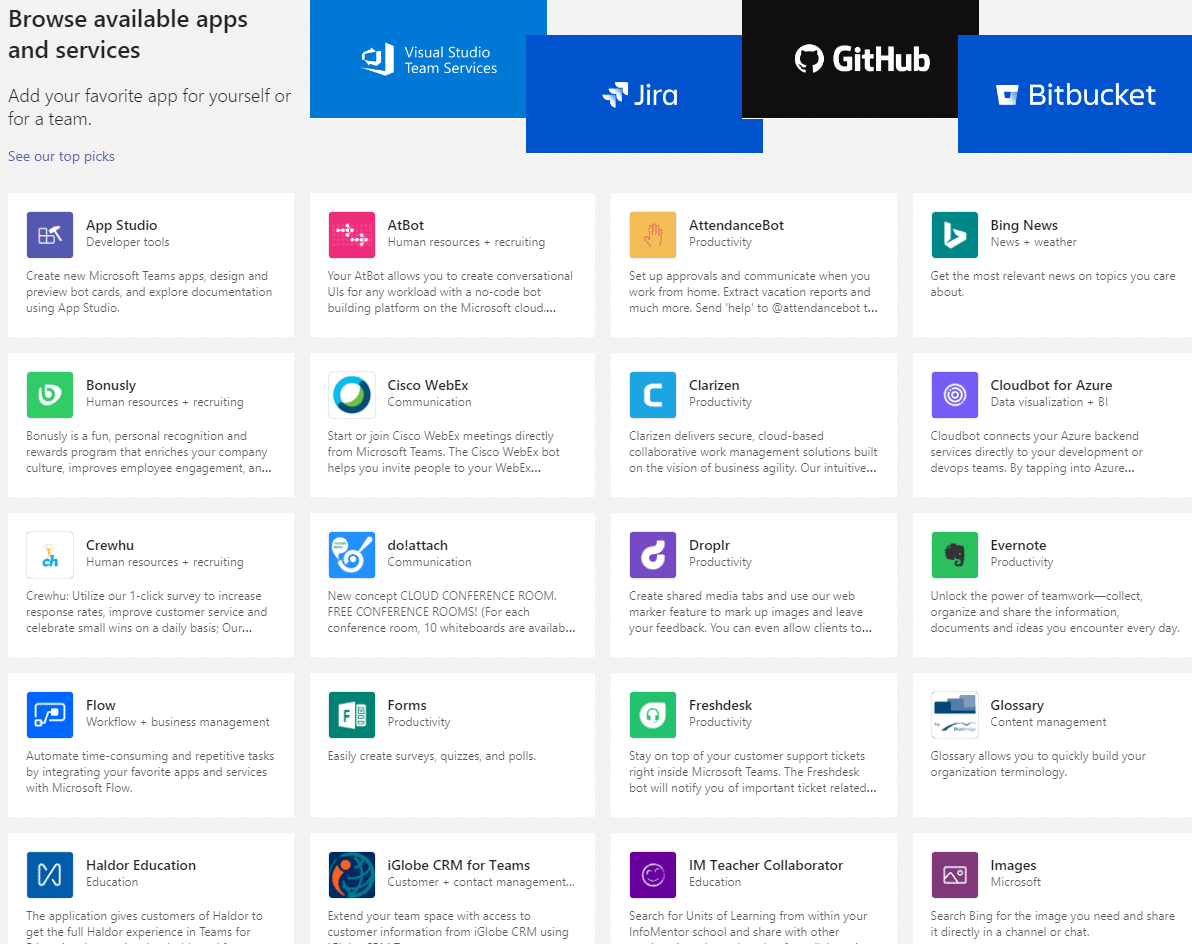 One that we have used successfully is OpenAgora. This app allows you to create polls within that channel, so we have been using it in our Social Events channel. You can just @ OpenAgora with the question you want to ask, followed by the options you would like available for selection. It then creates a tidy little post asking the question, and providing buttons for answers, which then feed into a result graph.
We are really just scratching the surface with the range of apps and services that are available in the store. As time goes on and we discover more, I'll be sure to keep you updated.
Until then, if you want or need any help with Microsoft Teams, or are interested in the Office 365 suite of applications from which it stems, contact us here at Lucidity.
Zach Dickson